Age is the most critical factor in fertility.
But, what is the age limit for IVF pregnancy? Can I be too old to get pregnant?
Some things get better with age. But is it the case with planning a baby?
These are some of the mind-boggling questions that hit a woman when she plans to get pregnant when her biological clock is constantly ticking.
The tick-tock game of your biological clock has a major role to play when it comes to calculating age limit for IVF pregnancy.
Even if the Assisted Reproductive Technology (ART) procedures work, the different rounds of Intrauterine Inseminations (IUI) and In Vitro Fertilization (IVF) treatments take around 3 years.
Infertility has become a common issue in the present era regardless of the age of couples. The increasing infertility rates and the rising need of infertility treatments have left half of the world devastated.
When a couple is on their path to achieving stability, they sometimes forget to realize that the younger a woman is, the better are their chances of conception.
But, even if you have surpassed the most 'fertile' years of your life, the advancements in artificial insemination procedures like In Vitro Fertilization have solutions to help you achieve your parenthood dreams.
What is the best age for IVF Treatment?
As a woman ages, her chance of natural pregnancy drops from around 25% at age 25 to less than 5% at age 40.
The truth about natural fertility and age: while women under age 30 have about 25% chance of getting pregnant naturally each cycle, that chance drops to 20% for women over 30, according to estimates by the American Society for Reproductive Medicine.
As soon as a woman reaches her 40s or surpasses the age of 35 years or more, her potential chances of a successful conception stands at around 5% only.
IVF Success Rates after 40
Based on the research reports presented by the Centers for Disease Control and Prevention (CDC) and the Society for Assisted Reproductive Technology (SART), in various cases age is just a number for IVF.
The fertility experts have said that a woman, who is in her mid forties, in most of the cases can still conceive with her own eggs with the help of In Vitro Fertilization (IVF) procedures.
The IVF statistics by age as explained by CHR show that women trying to conceive at the age of 40 have more than 11% IVF success rates.
On the other hand women trying to have baby at the age of 41, 42 and 43 have success rates of around 6.7%, 11.8% and 5.9%, respectively.
Discover More Fertility Fact Revealed: Biological Or Physiological Age Affect Female Fertility
Factors affecting IVF success rates
The success rates of IVF treatment depend on different criteria. Among these factors there some which are not in our control and there are certain other factors which can be controlled by bringing some lifestyle changes.
There are various crucial factors that ascertain the odds of IVF success over 40.
The following factors are considered when calculating your odds:
Age
Height and weight
Number of previous full-term births
Total number of pregnancies (including pregnancy losses)
Whether you plan to use your own eggs or donor eggs
Your cause for infertility (if known)
How to choose the best IVF clinic for over 40?
Planning to get your IVF treatment done?
You need to be extra sure, careful and confident about your decision before selecting a fertility clinic.
There are various factors that affect the IVF success rates at the best IVF centres.
One should opt for a fertility clinic that is well-equipped with modern technologies and state-of-the-art infrastructure.
Before planning to get started you should give emphasis to the location of the IVF centre, cost of IVF treatment at the centre, expertise of the best IVF doctors visiting the centre and the IVF success rates.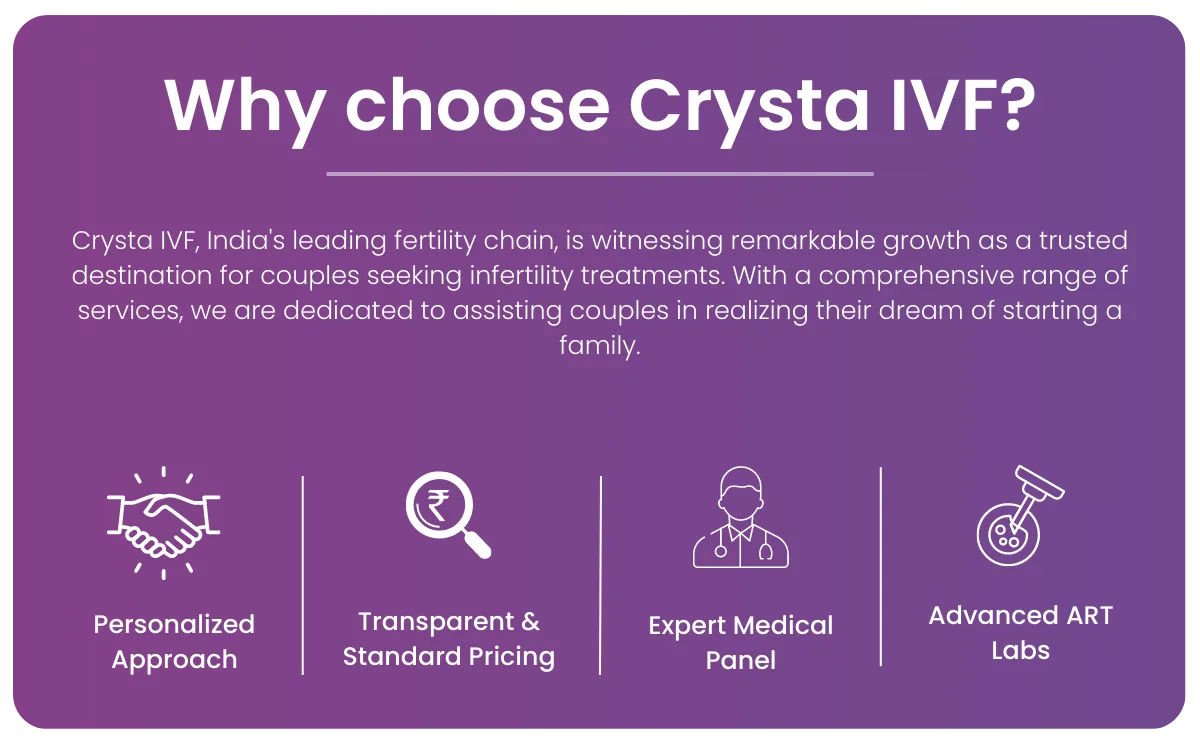 Crysta IVF is a leading fertility clinic and IVF centre in Lucknow and other parts of India which is best known for its world-class fertility treatments and a specialized team of medical professionals and fertility experts.
Also Read: Male Fertility Facts: Know The Best Age to Become a Father